We find so much joy in watching birds. They calm our souls, lift our spirits and bring color to our days. Birds inspire and entertain us, and remind us of our connection to nature. Our favorite way to watch wild birds? At feeders right outside our windows!
Bird feeding is a perfect way to bring nature a little bit closer. Whether you live in an urban apartment or a house in the country, it couldn't be easier to get started. All you need is a feeder and some seed and soon enough you'll have your own flock of feathered beauties visiting regularly.
While the possibilities for creativity are endless, there are a few basic types of feeders we like to use.
Platform feeders are a great way to get started if you're new to bird feeding, and can be as simple as a tray that holds seed or as creative as an antique cup and saucer. They can be hung over a balcony, put on a pole in the yard, or simply placed on the ground.
Hopper feeders often look like houses. Hoppers are convenient because they can hold a lot of seed. If you want to see larger birds like Cardinals and Woodpeckers, hopper feeders are a great way to go.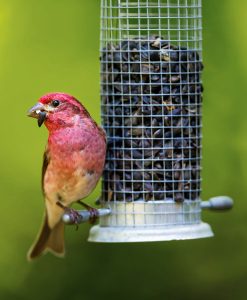 We also love tube feeders. These make it easy to see when it's time for a refill. We use ours with thistle, which is a favorite of brilliant yellow Goldfinches, or we fill them with black oil sunflower seed which is adored by acrobatic Chickadees. It's a delight to see a cluster of tube feeders covered in many different types of birds.
Want to attract Nuthatches? Suet is a high-protein food that birds love especially in winter. If you've ever wanted to see a Nuthatch up close, ours can't seem to get enough of our suet feeders.
Are you short on time? Pick up a Stacker feeder, which is the easiest type to fill and clean. Because Stacker feeders use pressed seed, you can combine different blends to attract a wider variety of birds. Ours have become a favorite lunch spot for our afternoon crew — we're always thrilled when we find a bright crowd of Bluebirds snacking on some mealworms.
In addition to feeders, birds love fresh water. A clean birdbath or water source gives birds a place to drink and preen, and provides you with hours of entertainment while watching them splash around their daily bath. For an extra treat, set up a heated birdbath in winter when birds' natural sources are often frozen over.
Quick tips to keep the goodness going:
Bird seed needs to stay dry to keep fungus & bacteria from developing. Choose enclosed feeders or feeders with a protective 'roof', and make sure your Platform feeders have a way for the platform to drain.
Clean feeders often to reduce transmission of illness and keep your birds healthy and happy throughout the seasons.
Don't forget to replenish food as birds will return every morning for their favorite meal.
Those squirrels! Keep squirrels at bay by using a baffle on poles or a specially designed squirrel-proof feeder. Or distract squirrels with their own food, such as unsalted peanuts.
Over time, you'll learn the types of seed your daily visitors prefer. We love providing food year-round because it attracts different groups of seasonal birds. Winter feeding can help birds make it through cold seasons when food is scarce; summer feeding can, in turn, help birds feed their young. If you're lucky, you may spot newly fledged babies following their parents with open mouths.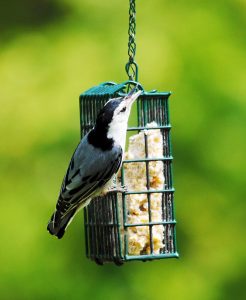 Where to put those feeders? Birds love natural cover, so placing your feeder near a staging area like a tree or bush gives them a chance to check out the scene before swooping in to eat. You'll want to watch out for windows, too. But most importantly, place feeders where you can see them clearly to enjoy your colorful backyard show every day!